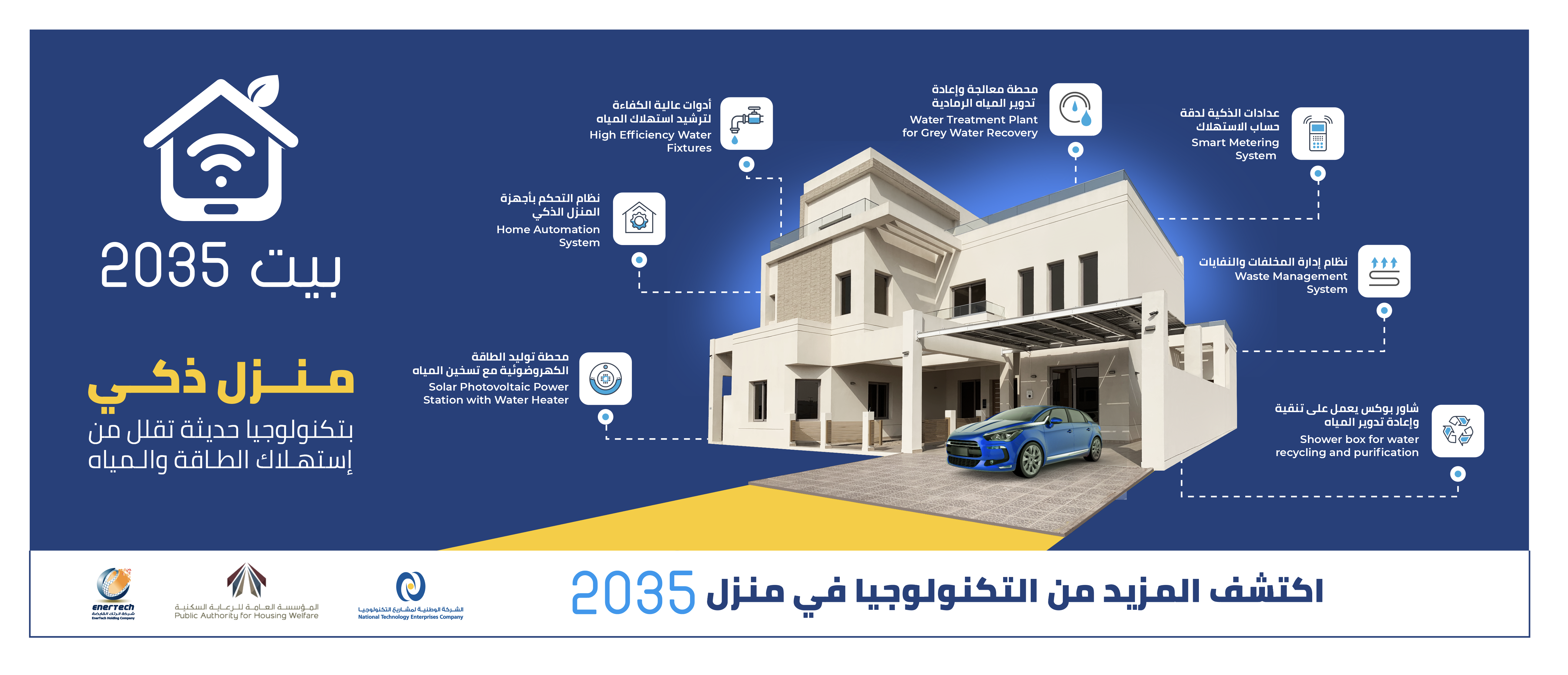 House 2035 is a project managed by National Technology Enterprises Company (NTEC).
NTEC was awarded the House 2035 project by Public Authority for Housing Welfare (PAHW) to build a prototype house using renewable energy technologies. NTEC considers House 2035 a tool for technology transfer in the renewable energy field that can be applied in Kuwait. This report discusses the intended operational plan for House 2035. NTEC will use this house as an exhibitory mock-up and the technologies demonstrated in the house will operate for a five-year period. PAHW envisions House 2035 as a model project for Kuwait's future residential housing design and construction.

To develop and implement a smart eco-house with high-efficiency technologies that lowers energy consumption on Kuwaiti citizens and for PAWH to implement this model house for future constructed houses. This will be demonstrated through installed monitoring systems that allow measurement of energy and water consumption which can then be translated and analyzed for PAHW to implement on upcoming constructed houses. 
The commencing measures will start once the house is ready and is open to the public in September 2019.
To upgrade PAHW's standard housing construction into, up-to-date sustainable housing utilizing local market available technologies. Under the condition that all implemented technologies not to increase the construction value by more than 30% as per PAHW standard cost.
This house will become as a Model House for all Kuwaiti Citizens, demonstrating that a Low Energy House with the available modern technologies can be achieved with average cost. The house is also aimed to be a point of attraction for students for educational purposes. Governmental entities can also refer to the information produced from progress reports of the house for R&D (research and development) studies.
Several technologies have been implemented into the new house. The main three pillars for the selected technologies are Availability, Affordability and Sustainability.
Energy, Water Environments, Indoor Air Quality and Waste Management plans were the main sustainability criteria for the technologies implemented in the house.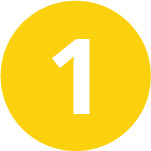 Home 2035 has 58% reduction in energy consumption compared to conventional houses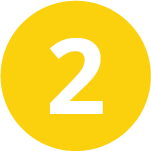 Energy reduction is guaranteed with an insulated envelope, high performance air-conditioning system and highly efficient windows.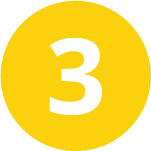 The Solar photovoltaics installed at Home 2035 can produce over 19MWh/annually.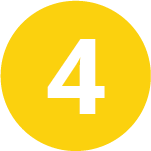 The shower recycling system can save up to 195 Gallons per day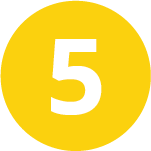 The grey water treatment plant can save up to 888 Gallons per day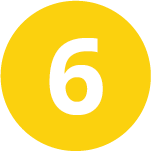 Installment of water fixtures saves up to 109 Gallons per day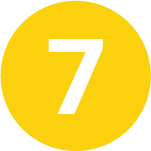 The solar water heaters eliminates 333 kWh/annually.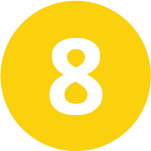 The Energy Use Intensity (EUI) is reduced by 34 kWh/m² when 10 kW is produced from the solar panels.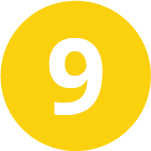 The payback period for the technologies at Home 2035 is less than 10 years!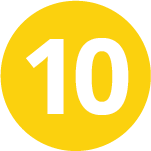 107 tons of CO2 will be reduced annually as an advantage of the energy consumption reduction.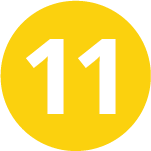 Home 2035 has 25+ modern day technologies that save electricity and water while reducing carbon footprint.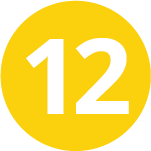 The main three correlating pillars to New Kuwait 2035's Vision for the selected technologies for home 2035 are Local Market Availability, Operational Sustainability and Kuwaiti National Affordability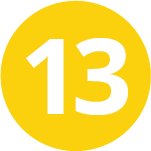 Home 2035 is GSAS **** (4stars) certified.
Rooftop PV Power Station & Carport Power Station
Solar PV panels on grid systems were integrated on to the roof and carport shade of the house. The combined power of the panels can produce and supply the house with 10kWp. The technology used is Canadian bi facial solar panels to have maximum production. The system is made of 3 phase inverters forming a solution protected by over running voltage protection and a Solis export power manager. This is the first time that the bifacial solar system has been installed in Kuwait and for the smart house of 2035.
Bifacial modules produce solar power from both sides of the panel. Whereas traditional opaque-back sheeted panels are monofacial, bifacial modules expose both the front and backside of the solar cells. When bifacial modules are installed on a highly reflective surfaces, Canadian solar bifacial module manufacturer claim up to a 30% increase in production just from the extra power generated from the rear, Most use monocrystalline cells, but there are also polycrystalline designs.
A constant advantage of using the Bifacial Solar system is that power is produced from both sides. True bifacial modules have contacts on both the front and back sides of their cells. The challenge with bifacial has always been the unpredictability of the power output because it is dependent upon the substrate behind the modules of a white commercial roof, a dark comp shingle, grass, gravel, it's hard to model what the module is going to produce. The System also includes high-quality components that are tested and certified to the highest quality standard and are designed for optimal durability and performance for up to 25 years – and beyond.
Company: GREEN – Gulf Renewable Energy Environment & Nature
Access Door Control System
The access control system is designed to work in different premises. It's a secure system that can provide the protection from the access of the secured areas or resources then the Face Recognition Solution's access control system is the perfect solution. Since access controlling mechanism is a day to day phenomenon and therefore protection of the various resources is a vital act.
Company: e-home automation L.L.C
LED Lighting System
LED lighting products produce light approximately 90% more efficiently than incandescent light bulbs. All lights by Philips at home 0235 have a luminaire containing and built-in LED lamps.
Company: Phillips
Lighting Motion System
Light controlling systems through Motion sensor that detects the movement then triggers the lights to be switched on for different periods according to the location.
Company: e-home automation L.L.C
Lighting Dimming System
In each room a switch to controls the light ON/OFF and enables or disablea the motion sensors but that's only through the LCD switches.
Through (Smart IOT app) you are able to control all the lights in the house by using a mobile phone Locally and the mobile is connected to the same WIFI network.
App: Smart IOT on Apple store
Company: e-home automation L.L.C
VRF Air Conditioning System
The VRF HVAC system can heat and cool different zones or rooms within a building at the same time. When the appropriate VRF system is selected, building occupants have the ability to customize the temperature settings to their personal preferences.
Company: Samsung Alandalus
Central Exhaust System Using the Energy Recovery Unit
Energy Recovery Ventilation Systems reduce the costs of heating ventilated air in the winter by transferring heat from the warm inside exhaust air to the fresh (but cold) outside supply air. In the summer, the inside air cools the warmer supply air to reduce cooling costs.
Company: Samsung Alandalus
Room CO2 and Temperature Sensors
The Wireless Room CO2, Temperature and Humidity Transmitters have long and reliable Transmission Range with Optional Range Extenders the.
Company: TSL
Wireless Room Temp and Humidity Sensors
The sensors are used for Wireless Room Temperature and Humidity Sensors with Multiple Options. These have:
Long and Reliable Transmission Range with Optional Range Extenders
Battery Powered up to 6 years
Temperature and Humidity
5-Position Switch, LCD, Setpoint and Digital Contact Options
Works with FLTA Receivers
Accurate Measurement
Company: TSL
Light Level and Occupancy Sensor
The light level and occupanycy sensors have:
Wireless Occupancy Sensors
Light Level Measurement Option
Long and Reliable Transmission Range with Optional Range Extenders
Battery Powered up to 3 years
Measurement Range up to 12m
Measurement Angle up to 140°
Works with FLTA Receivers
Adjustable Delay 0..30 mins (FLTA)
Company: TSL
Grey Water Treatment Plant
The Grey and Blackwater treatment plant allows for grey and black water to be purified and used for other purposes in the house. Greywater is the name given to waste water from baths, showers, wash-hand basins and washing while black water is the mixture of urine, feces and flush water along with anal cleansing water (if water is used for cleansing) and/or dry cleansing materials. The treatment is present in the house and a training course can be given to current households and people in the industry on how it is built and what are the benefits of such system.
Company: Almaddad
Solar Water Heating System
A Solar Water Heater is a device which provides hot water for bathing, washing, cleaning, etc. using solar energy. The Solar Water Heater comprises of an array of solar collectors to collect solar energy and an insulated tank to store hot water.
Company: Almaddad
Sunguard Hd Plus Bronze T Glass
Guardian SunGuard® HD Plus Bronze provides great solar insulation for the project, as well as vibrant color. Solar insulation will help reduce electricity costs as well as increase occupant comfort. The stunning bronze color will add character to the project. Beautiful color to create the design you envision, Great solar protection Saves on energy bills and makes interiors comfortable, High durability Products are easy to process Composition: 6 mm – coating on surface #2 Glass 1 & Coating: SunGuard HD Plus Bronze T on
Company: Alrifai glass
Dual Flush toilet - Thea
The dual flush toilet drives lower water usage and thereby saves money. The Environmental Protection Agency (EPA) estimates that 4,000 gallons of water can be saved annually in a residential household that employs dual flush toilets. (Dual-flush Closet- 30% less than International Plumbing Code)
Company: Aquasan
Smart water metering System
The system provides Real data communication, open metering telegram with Long-term stability under difficult conditions, unlimited system capability, Leak detection and the following benefits
Higher performance than class D requirements
Insensitive against sedimentation
Mounting in any installation position, battery lifetime up to 16 years
Suitable for outdoor installation
Displaying of error and alarm codes
No over-run performance
No magnetic influence
Data logger for consumption values
Data logger for consumption values
Company: Green Energy
Smart Electricity metering System
The meter is a digital one, two or four tariff meter for measuring positive and negative active and reactive energy in 2-, 3- and 4-wire networks. Tariff switching can be realized via the internal real time clock (RTC) or via an external control input for 2 tariff types. The application areas are mainly the energy data collection in the industrial and building technology, the switchgear engineering and the use in the energy supply sector. Its design allows for space-saving installation (only 6 modules according to DIN 43880). The meter in the converter design has an adjustable transformer ratio to capture the actual energy consumption. The converter ratio can be set directly on the meter using the call-up button. The energy consumption values are presented on an 8-digit LC-display
Company: Green Energy
Electrical Vehicle Charging point
Designed to be installed (both indoor and outdoor) at private houses, communal blocks, companies and other places where user authentication is not a requirement.
This EV charger can charge any car with electrical charging inlet, electrical motorcycles and bicycles.
Company: Green Energy
Exterior Façade Paint complying with Environmental Code (Low VOC).
Contex Thermoguard is a waterborne elastomeric, breathable smooth-textured top coat
which can reflect near infra-red radiation and also provide thermal insulation in hot
climates. The technology used in Contex Thermoguard can keep surfaces cooler and
reduce heat build-up in indoor areas, conserve energy, and save the cost of electricity.
Company: Hempel Paints
Indoor Paint complying with Environmental Code (Low VOC).
Topaz Zero Silk is an environmentally friendly water based topcoat designed to prevent growth of harmful bacteria and mold. Based on 100% pure acrylic, it gives a smooth luxurious silk finish with excellent opacity, washability, flexibility and colour retention properties.
Company: Hempel Paints
Aritco HomeLift
The Aritco Home Lift is designed to look elegant and make life easier. Incorporating timeless Swedish design, the Aritco Home Lift blends in effortlessly and it shares much unique features such as the customizable Design Wall and Design Light make it stand out as a truly unique, luxury residential elevator for any home. It has maximized the internal space and minimized the external dimensions, and the installation is so much simpler and quicker. The complete lift is installed in just a couple of days.
Company: Deal GTC
Oas, smart circulating shower system
The shower uses only 10% of the water and 20% of the energy required by conventional showers. The used water is purified and analyzed by sensor technology 20 times per second while highly contaminated water is removed completely. Less contaminated water is purified, comfort-corrected and pumped back in the loop for user usage.
Company: Orbital Systems
Highly Insulated building envelope
The building envelope is a system with efficient thermal insulation, unmatched acoustic insulation, has green building compliance and an environment friendly material. This ensures high-end tenants comfort level with efficient usage of raw material through a fully automated process, efficient packing and shipping and locally available raw material.
Company: Acico
Energy Management Monitoring System
This solution is appropriate for existing or new buildings where electrical, water and solar metering equipment has already been installed. It is therefore necessary to sense the measured values (without interfering in metering equipment) and transfer data to the energy gateway, which processes the data and renders it on a dashboard for assessment.